<!- START LEFT SIDE-->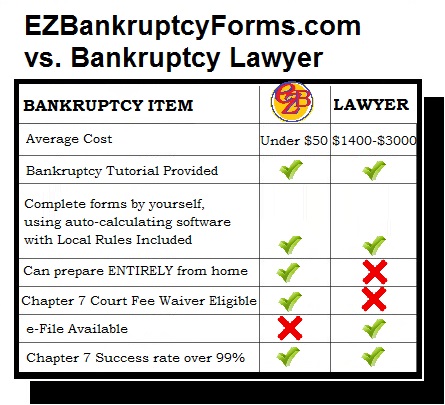 <!- what I want in right-mid -->
AWARD WINNING BANKRUPTCY SOFTWARE
EZBankruptcyForms.com prepares you to file for Chapter 7 or Chapter 13 filing with Bankruptcy Without a Lawyer tutorials, and provides the software to assist your filing for as little as $44.

BANKRUPTCY LAWYERS PROVIDE A USEFUL SERVICE TO THE INDIVIDUAL FILING BANKRUPTCY: COORDINATING THE BANKRUPTCY. EZBankruptcyForms.com provides this service on our website, for free, EVEN BEFORE YOU PURCHASE OUR SOFTWARE.

Our mission is to give you enough understanding of the bankruptcy process for free so that your hardest hurdle would be completing the bankruptcy forms accurately. Our forms are savable, can be used on multiple computers, and auto-populate and auto-calculate (three things the free forms on the government website do not). EZBankruptcyForms bankruptcy software is updated for 2016 (matching both the government form overhaul on December 1, 2015 as well as the minor changes on April 1, 2016), will give you accurate results and save you a lot of time.

Be aware that EVEN IF YOU HIRE A LAWYER, you will personally be responsible for passing your credit counseling and debtor education courses, passing your "MEANS TEST", filling out your bankruptcy forms yourself, providing the bankruptcy court with personal financial information (such as paystubs and tax returns), and personally attending your Meeting of Creditors.

EZBankruptcyForms online bankruptcy package looks EXACTLY like the forms you will be submitting to the bankruptcy court, and is completely downloadable to your computer with no .exe files to install. If can view the "Means Test" described above, you already have all the tools installed to begin. EZBankruptcyForms gives you the ability to start on your bankruptcy forms one day, save at any time, and complete the forms at a later date for as little as $44.

We feel that once you've read our tutorials and filled out the paperwork using EZBankruptcyForms."Bankruptcy Software for Consumers", you will feel very comfortable in representing yourself in bankruptcy. With that said, we provide a backup plan.

There are thousands of free bankruptcy legal centers available throughout the country to low income "pro se" bankruptcy filers. "LIKE" OUR FACEBOOK PAGE and post the specific city you will be filing in on that page, and we will post the available dates and times for the free bankruptcy clinic in your area, where you can have your completed paperwork reviewed by a lawyer, for free.